Machineworks Northwest LLC releases mobile version of legendary horror FPS Painkiller for Android. The gripping 3D shooter is now available for download on the Google Play and Amazon Appstore. https://play.google.com/store/apps/details?id=com.machineworksnorthwest.painkillerp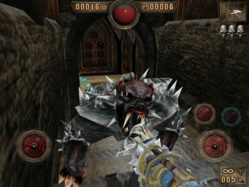 Painkiller: Purgatory is the ultimate Horror FPS for the
hardcore smartphone gamer.
PC Games' Best Shooter of the year is now on your Android Device! Machineworks Northwest LLC releases mobile version of legendary horror FPS Painkiller for Android. The gripping 3D shooter is now available for download on the
Google Play
and
Amazon Appstore
.
Painkiller: Purgatory HD is the most intense, gripping 3D action shooter available on your smartphone or tablet!
Get ready to experience the most mind-numbing, blood-curdling 3D battles your mobile device can deliver:
-Over-the-top weapons
-Painkiller's trademark giant boss battles
-Weapons with alternate fire modes
-Original soundtrack and sound effects
-Dark, gripping atmosphere
"Trapped in a dark and unwelcoming world, awaiting purification for your earthly sins, you must fight through an endless number of enemy warriors as you attempt to stop the imminent Unholy War and overthrow Lucifer. But even if you win this insane battle, you must still take out hordes of howling devils eager to avenge their master. You are the angel's only prayer..."
Machineworks was voted "Best Mobile 3D Studio", won numerous Editor's choices and "Best Mobile Game of the Year" Awards, including CNET's "10 best mobile games ever made". Entrepreneur magazine recognized Machineworks as "one of the 100 brilliant companies to watch". MW designed the critically acclaimed Prey and Duke Nukem Mobile line of mobile games and egineered the best-selling Guitar Hero Mobile 3 and 4, all running on RIPP3D, Machineworks award-winning mobile 3D engine. Painkiller: Purgatory is another game that documents Machineworks dedication to the top end smartphone/tablet gamer.
http://www.machineworksnorthwest.com